Welcome to Fingerhut!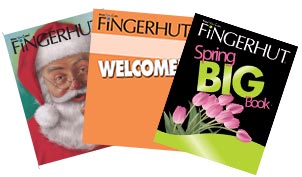 Our story is a good one.
Fingerhut started back in 1948. Since then we have helped millions of people buy everything from furniture and bedding to jewelry to the latest electronics, all with affordable low monthly payments.1 Fingerhut offers you a great way to give your family the basics, but also make those birthdays and holidays extra special.
Even if you have been turned down for credit, give us a try. We can often say Yes! when others say no. Even better, when you apply for a Fingerhut Credit Account issued by WebBank, you will get an answer instantly, and could start shopping right away. We work with people every day who have (or had) credit challenges and we look forward to working with you!
Apply for WebBank/Fingerhut credit.
If you are approved, you can start using your account right away.
Pay off your order with payments as low as $7.99 per month.*
About Us

Products
Fingerhut offers thousands of products including the brand names you want like Samsung, Dyson, Skechers, KitchenAid and more. You'll find your favorite electronics, jewelry, shoes, furniture and decor items. Get what you need for your kitchen, living room, bed or bath, and find great gifts for your family. Start shopping!

Credit
Fingerhut offers the credit you need to buy the stuff you want for your family. We make it easy to apply.
You don't pay any fees to shop with Fingerhut. We charge NO annual fees, membership fees or overlimit fees2. The only extras are the interest you may accrue on your account, any late fees that may be charged if your bills are not paid on time, and/or any return payment fees.
We are here to give you credit to help you buy what you need. When you use your WebBank/Fingerhut Credit Account, and you make your payments on time, you build your buying power with us, and we report your payment history to the credit bureaus. Every little bit helps! Apply today!

Service
We are here for you, 24/7. If you want to apply for credit, place an order or have a question about your account, you can look online, any time, day or night. You can also call and find account details or make a payment over the phone, any time. You can call and talk to a real person, 24 hours a day. You can also email questions to us. Contact us!
Fast Facts
How does WebBank/Fingerhut Credit Work?
Apply for a WebBank/Fingerhut Credit Account online and get an answer instantly. If you are approved, shop and place your order(s). Make your low monthly payments1 in full and on time. Then you could be eligible for credit line increases, special offers and more. We report your payment history to the credit bureaus. It's a great way to build your buying power with us!
How Much Does the Card Cost Per Year?
Nothing! There are no annual fees, no application fees and no overlimit fees.2
Who gets WebBank/Fingerhut Credit?
Even if you have had credit challenges in the past, give us a try. You just might be surprised!
Do You Have More Than One Kind of WebBank/Fingerhut Credit Account?
Currently, there are two types of WebBank/Fingerhut credit accounts. There is the Fingerhut Advantage Revolving Credit Account issued by WebBank and the Fingerhut FreshStart® Credit Account issued by WebBank. The Fingerhut Revolving account may or may not require a one-time down payment when you place your first order. (This is not a fee, and it counts toward your order.)
The Fingerhut FreshStart® Credit Account is a 3-step installment credit program that can help shoppers build buying power with us. First, if approved, you make a 1-time purchase up to your credit limit. Then make a $30 down payment and your order is shipped.3 Finally, pay off the balance in several easy monthly payments. Make your payments on time and for the full amount, and you may be rewarded with a revolving WebBank/Fingerhut Credit Account4.
Can I Use Lay-A-Way?
We currently do not offer lay-a-way. But, with Fingerhut's low monthly payments1, you can get what you want now, and pay for your purchase over time.
Can I Use My WebBank/Fingerhut Credit at Other Stores?
WebBank/Fingerhut Credit can be used to buy thousands of products on fingerhut.com, the Fingerhut catalog and over the phone. You may also use your WebBank/Fingerhut credit to make purchases with select Fingerhut partners. You will receive offers from these partners from time to time. These include online florists, insurance companies and others.
If you apply and are accepted for a Fingerhut Credit Account issued by WebBank, who determines eligibility and qualifications for the terms of credit.
Please see our complete Revolving Fingerhut Credit Account Terms and Conditions.
For complete program details, see Fingerhut FreshStart® Terms and Conditions.
Dependent upon successful completion of the Fingerhut FreshStart® Credit Account, such as no late payments or returned payments. See your Truth-in-Lending Agreement for details.