|
|
|
|
0 items

{"dragByHandle":true,"cssSelector":"ql-thumbnail","dragByBody":false,"widgetClass":"OverlayWidget","bindings":{"bind0":{"element":".ql-thumbnail .Quicklook .trigger","type":"quicklookselected","fn":"function(){$.fnProxy(arguments,\'#headerOverlay\',OverlayWidget.show,\'OverlayWidget.show\');}"}},"effectOnHide":"slide","effectOnShowOptions":"{}","closeOnBackgroundClick":true,"effectOnHideOptions":"{}","effectOnShowSpeed":"1200","onScreenPadding":10,"allowOffScreenOverlay":false,"effectOnHideSpeed":"1200","effectOnShow":"slide","captureClicks":true}

How do I return or exchange something I bought?
We say satisfaction guaranteed, and we mean it! We're happy to exchange or refund your purchase within 30 days. Just follow these 4 easy steps.
Returns Are Easy!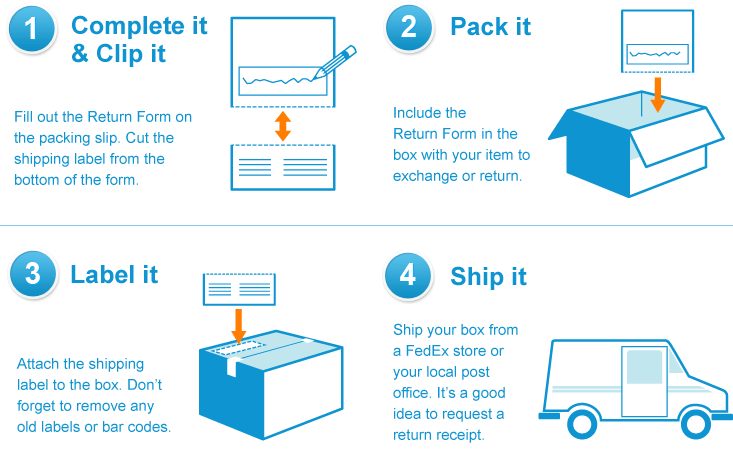 More Questions?
What if my item is damaged, defective or isn't what I ordered?
Oops, sorry about that! Let us make it right. You can use the pre-paid return label you may have received in your package. If you did not receive one with your packaging, visit our Returns Center in the My Account area of the website to print a new return label at Fingerhut.com. If you have any specific questions, contact Customer Service to help with your return.
How long will it take to receive my return credit?
It typically takes 10 days, from the time you mail your item to us to receive it and credit your account. If you provided us with your email address, we will email you when your account has been credited. You can also check on your return status and available credit by viewing visiting the Returns Center in the My Account section of Fingerhut.com.
I misplaced my return label. How can I get another return label?
Visit the Returns Center in the My Account area of Fingerhut.com to print a new return label or contact Customer Service.
Note: Pre-paid return labels are not available for truck-ship items, oversized items or Fingerhut FreshStart accounts. Contact Customer Service to help with your return.
What if I don't have my packing slip?
No problem! If you don't have your packing slip, you can print one off from the Returns Center in the My Account area of Fingerhut.com or create your own.
To print a packing slip: visit the Returns Center in the My Account area of Fingerhut.com. Select the order and the items you would like to return and hit the Print Label button. A packing slip will be included in your print outs.
To create your own packing slip: write down your order number and specify if you would like a return credit or if you would like an exchange for a different item. Put this information inside of your box. Mail the box to: Fingerhut, 6250 Ridgewood Road, St. Cloud, MN 56395.
For more detailed information on returns see our Return Policy.
Customer Service
Payment Options

For complete information on your total of payments and time period to repay for a single item purchased at the advertised price per month.
See Full Cost of Ownership
Advertised Price Per Month: The advertised price per month is the estimated monthly payment required to be made on your WebBank/Fingerhut Credit Card Account for a single item order, or if at any time your account has multiple items on it, then please see the payment chart for payment terms. The advertised price per month will not apply.
1. If you apply and are accepted for a Fingerhut Credit Account issued by WebBank, who determines eligibility and qualifications for the terms of credit.
2. Please see our complete Revolving Fingerhut Credit Account Terms and Conditions.
5. Purchase with Purchase Disclosure
A Fingerhut Credit Account makes catalog and online shopping easy and convenient for any budget. We know a lot of people are trying to build credit. You can buy now and pay later when you have a credit line with us. With Fingerhut, we offer credit line increases to qualified customers. We offer credit, services and products and make it easier for qualified customers to buy on credit for home shopping, online shopping, even catalog shopping. Fingerhut catalogs have electronics, apparel, computers, appliances, TVs, jewelry and more. If you are looking for credit for "bad credit", try us. Home shopping convenience is here. Qualified customers buy now, pay later. Easy shopping with low monthly payments is possible with Fingerhut!
©2014 Fingerhut. All rights reserved.